Welcome to Hollywick Farms in Sandia Park NM!
Farm and Store Hours:
SUMMER HOURS:

 

 

April 1st thru October 31st: Open 10am – 3pm, Thursday thru Monday; Closed Tuesday and Wednesday.
WINTER HOURS:

November 1st thru March 31st: Open 11am—3pm Monday, Thursday, Friday and Saturday. Closed Sunday, Tuesday, and Wednesday.

Farm tours are free of charge. No appointment is necessary for groups of eight (8) or fewer. An appointment is required for groups larger than 8 people or for groups of persons with special needs. The last tour of the day begins 30 minutes before closing. NOTICE: As a working farm, we may have to close due to unexpected circumstances, including severe weather. We may also close for selected holidays and for special events. We recommend you call and listen to our outgoing message at 505-286-1172 on the day you plan to visit to confirm we are open, especially if you are coming from outside the local area. If we do have to close, that fact will be noted on our answering system. Note: there are no public restrooms at the farm DURING WINTER HOURS.
Tips for your visit:
Check the weather to the right of this page for an idea on how to dress appropriately for your visit. New Mexico is notorious for its quick changing weather, so we suggest you dress in layers as the temperatures may be between 10 and 20 degrees lower than Albuquerque. We are a working farm, so make sure you have comfortable shoes, especially if you want to go inside the alpaca paddocks on your tour. Don't forget to bring your camera so you can have a record of your visit.
No Pets or Service Animals Please:
We regret that we cannot accommodate pets or service animals as they frighten our alpacas, putting the alpacas and other visitors at risk.
Reminders:
Check the weather Dress in layers Wear sturdy shoes Don't forget your camera!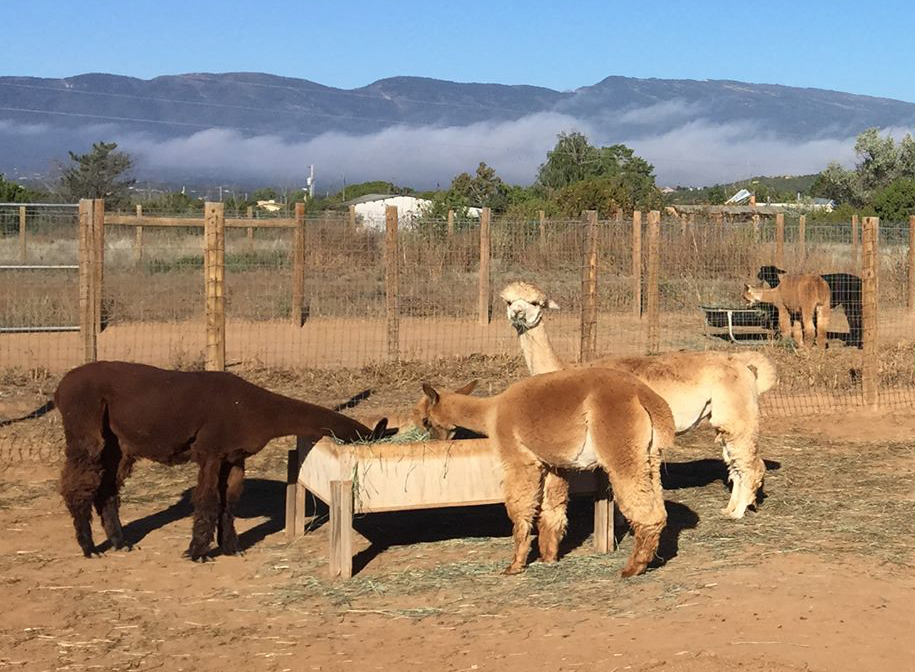 Weather Forecast
Partly Cloudy

Today is forecast to be

Warmer

than yesterday. Thunderstorms likely early tonight.

Clear

Sunny to partly cloudy. A stray shower or thunderstorm is possible. High 87F. Winds NW at 5 to 10 mph.

Partly Cloudy

Partly cloudy skies. A stray shower or thunderstorm is possible. High near 85F. E winds shifting to SSW at 10 to 15 mph.

Chance of a Thunderstorm

Isolated thunderstorms in the morning, then skies turning partly cloudy late. High 87F. Winds WNW at 10 to 15 mph. Chance of rain 30%.

Clear

Sunny. High 89F. Winds NNW at 5 to 10 mph.

Clear

Generally sunny despite a few afternoon clouds. A stray shower or thunderstorm is possible. High 86F. Winds SSE at 10 to 15 mph.